The ever-existing prejudice against the gaming industry has caused many to focus on the negative aspects of gaming. Due to this, people may have underestimated the advantages that it brings to the table.
Sure, this concept is overthrown with the development and progression of the VR gaming industry. However, the primary reason behind the immersive nature of VR gaming is to experience a life-like realistic experience. The hidden aspect behind this, which people may tend to overlook, is that through this immersive nature of VR gaming, a gamer can develop and improve skills.
The simulations and varied user interfaces of the different games of Zero Latency, and even escape rooms, provide unique and new experiences. Any user or gamer needs to learn the right way to interact with such interfaces and thereby improve life skills that range from better coordination, spatial awareness and intelligence to recognising patterns and more.
At Meetspace VR, we know how beneficial VR gaming is – from providing an entertaining and high octane experience to helping you develop and improve your skills.
If you're looking for more information, we've put together a list of ways you can improve skills with VR gaming.
Let's take a look!
Immersive Experience That Engages Multiple Senses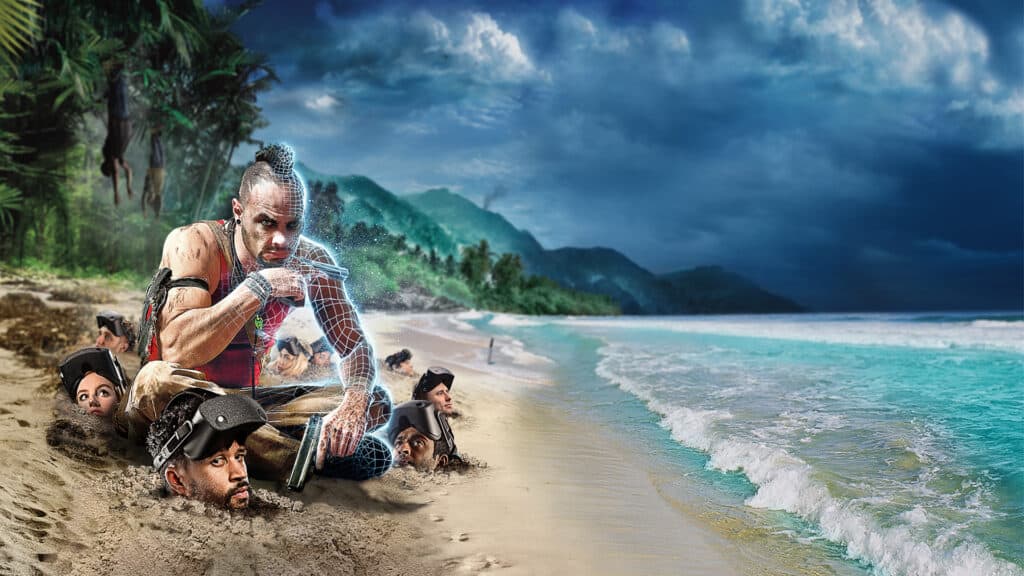 Modern games and simulations, including VR arena experiences, have become an amalgamation of fantasy and realistic elements that engage multiple senses.
With the vivid and detailed graphics, characters and locations, and audio or sound effects, it is easy to find yourself completely immersed in the game.
By engaging your sense of agency that is responsible for your actions, time perception and familiarity with the realistic features, VR gaming requires you to use your skills to navigate through the game.
With location-based arenas that offer a free roam VR experience, being immersed in another dimension will also require you to work on your balance and coordination to proceed further in the game.
For example, as you navigate the island on Far Cry, from tackling obstacles to escaping Vaas and his crew, you'll need to think quickly and find your way out of tricky situations to beat the game.
In such an experience, every person needs to use multiple senses to handle a specific situation and obstacle which may lead to a noticeable improvement in their real-world skills.
Requires You To Reason And Evaluate Course Of Action And Consequences

One of the most compelling features of VR gaming is its ability to make the gamer use their logic and decision-making skills to win the game.
Strategizing is an important part of almost every type of game and to move to the next level or defeat an enemy, you'll need to evaluate your actions and see which outcome would be most favourable.
For example, if you're playing Zombie Survival and you need to move to another place to provide cover for your team, you'll need to think of a way to prevent the zombies from surrounding you while you try to escape.
Through VR gaming, certain situations let you work on your reasoning and evaluation to find the best solution and outcome. While there's a chance that a player may attempt the same course of action multiple times to achieve success, with each approach, they may be able to learn something new.
Additionally, with complex and advanced games, your skills and intellectual capabilities are challenged as the situations and obstacles become even more difficult. While you may stick to a comfortable level of difficulty, if you're really looking forward to improving, consider taking on something more challenging.
To Conclude
On the surface level, VR gaming may be perceived as an entertaining and high octane adventure. However, when you take a deeper look into it, VR gaming can help you work on not only your physical abilities but also your real-world skills and intellectual capabilities.
Although there may be a debate around this, trying out the experience yourself will definitely give you more clarity and insight into how it really works.
Book An Incredible VR Experience At Meetspace VR Today!
Now that you know of the different ways you can improve skills with VR gaming, why not give it a try? Whether it is free roam Zero Latency, Escape Rooms or a VR Arcade, at MeespaceVR you get to experience the best of VR gaming.
Check our games here and book your session of a high-octane VR experience today!