With wedding season making a comeback in the UK, you are probably looking to throw a unique stag do for your mates.
We all know how important a stag do is; it's the last hurrah celebrating your friend's singledom before he starts with the new chapter in his life.
From adrenaline-filled VR adventures to challenging escape rooms, there are many high octane stag do ideas that you can add to your list for an unforgettable day with the lads.
With this in mind, if you're looking for adventurous stag do ideas, we've got you covered. At Meetspace VR we know all about the best high octane experiences and have some amazing recommendations stated below.
So without further ado, let's dive in!
1. A Co-Op Zero Latency Experience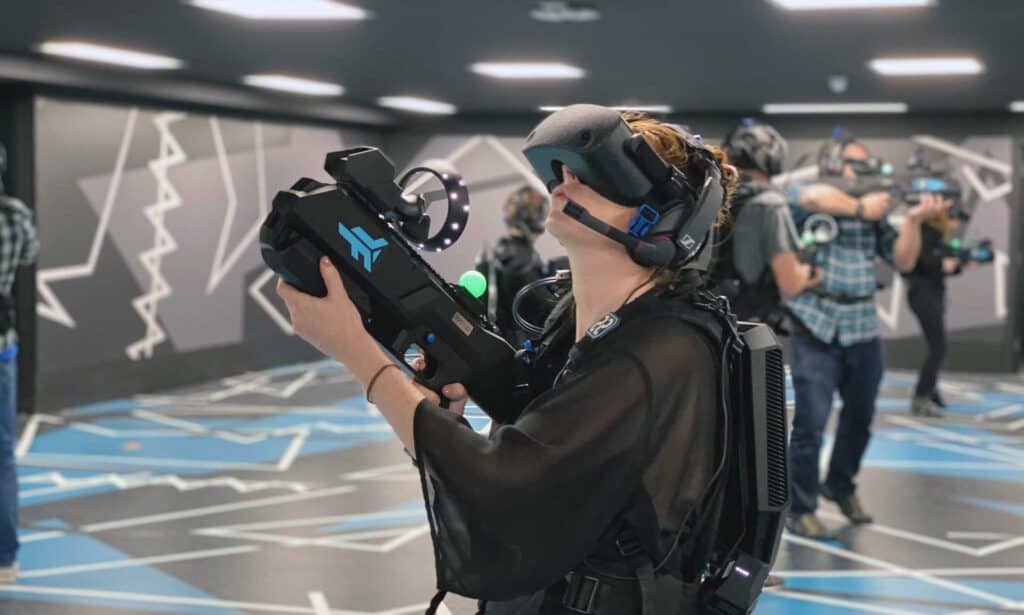 Almost everyone has had game nights with their friends which included trying out different PS or Xbox missions that went on late in the night. From COD to Fortnite, games have always been a great way to have a good time with friends. That said, why not take this to the next level and try out something even more immersive and engaging?
At Meetspace VR, you'll find just that!
With an immersive free roam VR experience in a warehouse-scale arena, you and your friends can try out some of the best VR games. FarCry VR, Undead Arena, Sol Raiders, Outbreak Origins, Singularity are some of our best Zero Latency games. From defeating robots to surviving hoards of zombies, many adventures are awaiting your squad.
With no wires or cables restricting your movements, you and your team can go all out and maybe even pull out a few cool moves to make the most of this experience.
2. Try Out A Challenging VR Escape Room
If you're looking for something different for your high octane stag do ideas, consider trying out a challenging VR escape room. This unconventional stag do activity does not only provide an entertaining experience but will also push you to think out of the box in the most creative way.
While there are a few who underestimate how thrilling an escape room can be, when you add VR to the mix, the experience is unlike any other. From escaping a lost pyramid to surviving on an uninhabited island, you can pick any adventure that appeals to you and the stags.
Additionally, with the different difficulty levels, you can pick an easy adventure or a tough one – the choice is completely yours!
3. Opt For A VR Arcade Frenzy
If you're a big fan of VR gaming and want to try out multiple games with your stags, opt for the frenzy of a VR arcade.
The best part of a VR arcade is you get to try out multiple games and mix and match them to suit your mood. From something relatively easy like archery to an FPS Superhot game where you fend off enemies, there's an arcade game for every skill level.
Be it action, shooter or sports games, at an arcade, you get to try them all. At Meetspace VR, you can now enjoy a fun VR Arcade adventure with your group of friends for a guaranteed amazing time.
Get in touch with us to book your slots today!
Unique Stag Do Experiences – Things To Keep In Mind
Although you may have found some of the best high octane stag do ideas, you need to make sure all the details and bookings are taken care of.
With a limited number of people for each activity, you'll need to plan beforehand and make the necessary arrangements well in advance. Additionally, account for food and drinks so that you can replenish your energy after the thrilling VR adventures.
By booking your slots beforehand you can kick back and relax; your adventures await you!
Visit Meetspace VR For A High Octane Stag Do
Now that you have a list of amazing stag do ideas for you and your friends, all that's left for you to do is book your adventure at Meetspace VR right away!
Click here to explore our range of virtual experiences for a high-octane adventure with your squad. Book your slot now or fill out our enquiry form for more details.