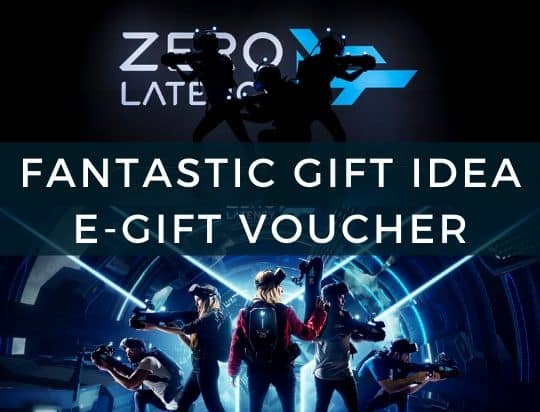 THE ULTIMATE GIFT
You can give your friends and family the ultimate virtual reality experience with a meetspaceVR e-gift voucher. Our e-gift cards can be used to book any session in any venue (Nottingham, Wembley and Birmingham).
A print out of your gift card must be presented when attending your booked slot. E-Gift vouchers are a fantastic idea for birthdays, corporate gifts, Christmas and reward and recognition programs in the workplace.
Ready to blow their minds?
Get Ahead of the Game
meetspaceVR :: Join our list of past players and future players. Our Free Roam VR and Escape Room experiences will quite simply blow your mind.
Just sign up to our newsletter and we'll keep you in the know.
Only Early Access members will be in with a chance of being invited to our Birmingham Launch Party (This will run in parallel in Nottingham and Wembley). We will be holding the UK's first cross site vSports tournament!
We'll also give you a little piece of reality right now so you can step into our virtual worlds very soon.

ZERO LATENCY VR
Warehouse scale free roam VR. Where you can play with up to 8 people all in the same game, competing or co-operating to survive your mission. Your bodies become the controllers and your minds believe it is all real!
VR Escape Room Adventures
Introducing VR Escape Room Games set in amazing immersive worlds. Our VR escape games are built around co-operation between players. Our VR Escape Room games span generations, interests and backgrounds, they are not just for gamers.
VIVE VR Arcade
Mix and match your experience to suit your appetite for adrenaline. Get your team together no matter how big or how small and immerse yourselves in a truly immersive social virtual reality arcade.
GET IN TOUCH
NOTTINGHAM
meetspaceVR, Cairns Street, intu Victoria Center,
North Car Park, Nottingham, NG1 3QN.
LONDON
meetspaceVR, Box Park, Olympic Way, Wembley Park,
Wembley, London, HA9 0JT.
BIRMINGHAM
meetspaceVR, Utillita Arena Birmingham, St Vincent St,
Birmingham, B1 2AA.
MANCHESTER
(Coming Soon)
---
CONTACT
Please fill in the form opposite or e-mail (support@meetspacevr.co.uk) and one of our store managers will get back to you as soon as possible.