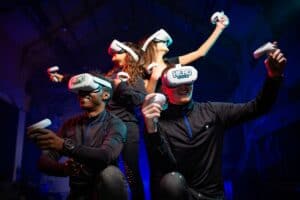 A VR arcade is a throw back to the classic video game arcades of old. However, in this type of arcade the centre offers virtual reality experiences to its customers. These arcades typically have a variety of virtual reality games and experiences that customers can play using high-end virtual reality equipment. Customers wear a VR headset and use handheld controllers to interact with the virtual environment, providing a fully immersive experience that transports them to a different reality.
Many are tethered (you are connected to a gaming pc via cables). More are becoming untethered similar to what you can do at home with the meta quest based headsets. The VR Arcades are constantly looking to bring entertainment that you cannot do at home which usually revolves around the space and multiplayer experiences.
Why would you go to a VR arcade?
There are many reasons why people might choose to visit a VR arcade. Some may be interested in trying out the latest virtual reality technology and experiencing cutting-edge games and experiences. Others may be looking for a fun and unique way to spend time with friends or family. VR arcades can also be a great option for team building activities or corporate events. We just love it as it is fun, immersive and mind blowing!
How popular are virtual reality arcades?
Virtual reality arcades have become increasingly popular in recent years, as virtual reality technology has become more accessible and affordable. These arcades have proven to be popular with people of all ages, and not just for people who are interested in video games and technology. The technology has become so intuitive that in the arena scale VR arenas anybody can play the games available. VR arcades can be found in many major cities around the world, providing a unique and engaging entertainment experience to customers.
How is a VR arcade different from a normal arcade?
While traditional arcades typically feature arcade-style games, such as pinball machines and arcade cabinets, VR arcades are focused exclusively on virtual reality experiences. Instead of playing physical games, customers wear a VR headset and use handheld controllers to interact with the virtual environment. This provides a fully immersive experience that is not possible with traditional arcade games.
The development of arena scale free roam arcades makes the technology even more accessible and really is the VR to try.
What types of games can you play at a VR arcade?
VR arcades offer a wide range of virtual reality games and experiences, catering to a variety of interests and skill levels. Some of the most popular types of games at VR arcades include first-person shooters, puzzle games, racing games, and adventure games. Many VR arcades also offer multiplayer games that allow customers to play with or against others in a virtual environment. Some VR arcades also offer unique experiences, such as virtual reality roller coasters or escape rooms, providing a wide range of options to choose from.