Virtual reality gaming has taken the world of gaming into a whole new realm, where the player's body has become the controller and the gaming world, his reality.
All of this has only been made possible by the advancement of gaming technology and the introduction of virtual reality gaming gear.
When it comes to virtual reality gaming, one of the most important aspects that help create a seamless and exciting VR experience, is the gaming gear.
At MeetspaceVR, we use the most advanced and high-quality equipment available, to guarantee you an unforgettable, free-roam experience.
However, most people aren't aware of the gaming gear used in virtual reality games or how it works. In this blog, we'll tell you all about our exceptional VR gaming gear, so that you'll know what you're in for on your next VR adventure.
Virtual Reality Gaming Gear
The gaming gear in any kind of game or technology is absolutely essential. However, when we talk about virtual reality gaming, the gaming gear is what actually creates the experience entirely.
Virtual reality offers a number of gaming experiences, such as free-roam, escape rooms, VR arcades and so many more. To have the most immersive experience with the best VR games, you'll need to be prepared with the best gaming gear.
Therefore, a perfect set of gaming accessories, including the latest VR headsets, headphones and controllers, are required to have a marvellous VR experience.
Let us explore the components of VR gaming gear.
VR Headsets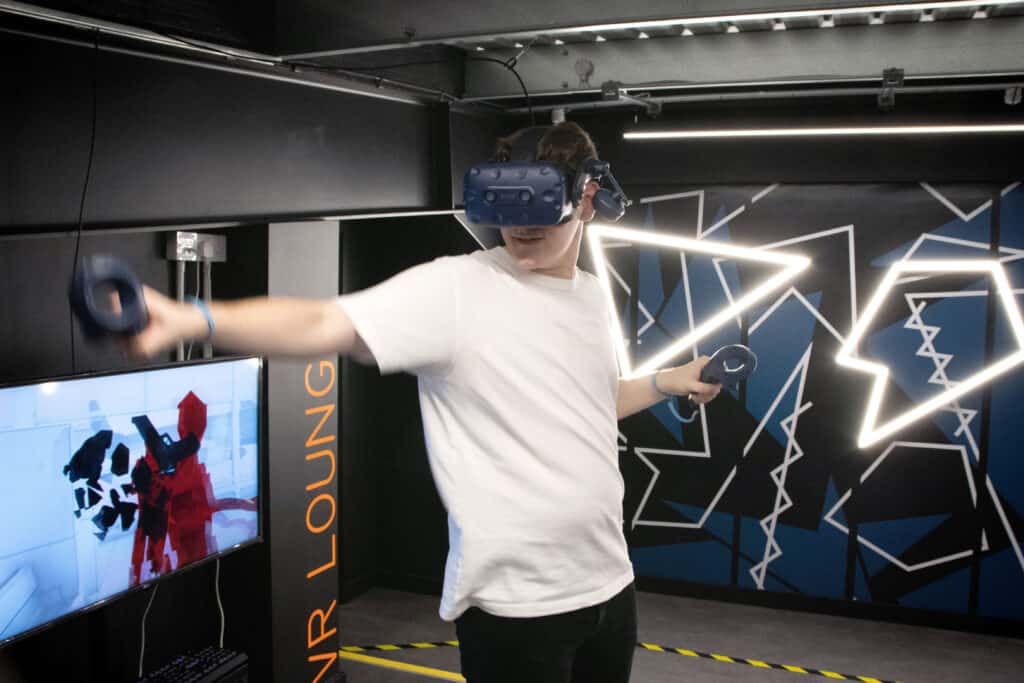 The VR headset is one of the most crucial parts of the VR gaming experience. Also called the head-mounted display, the VR headset is what displays the game in front of your eyes with incredible detail.
VR headsets present a different image for each eye in order to create the illusion of reality for the user.
With incredible resolution and enhanced graphic details, our VR headsets deliver an experience that will leave you questioning reality and fiction.
Headphones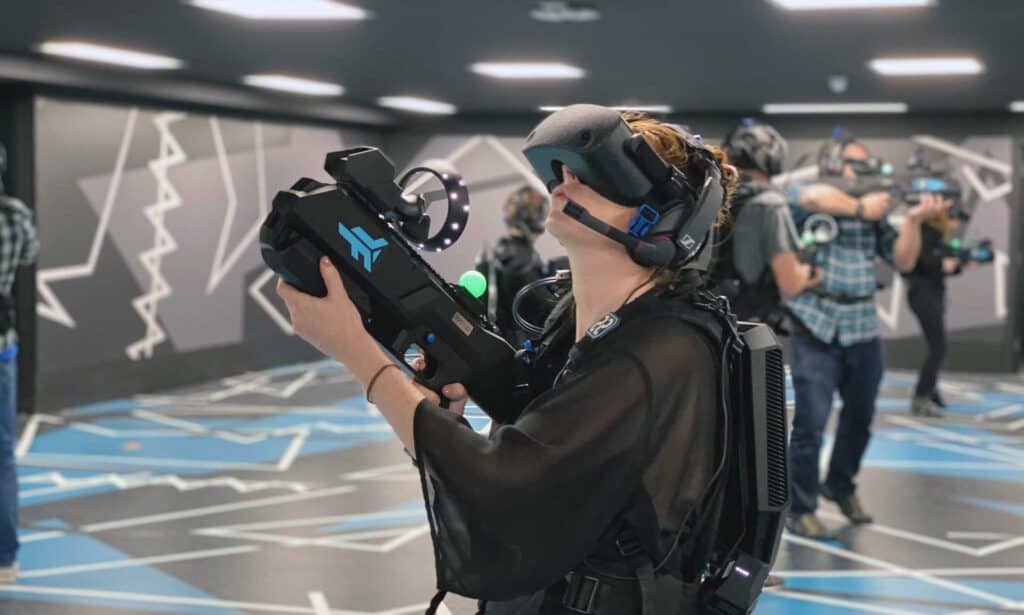 When you're part of a free roam VR gaming experience, clear communication between players is very important and that's exactly what the headphones enable.
That's not all though, with exceptional surround sound mixing the headphones, play sounds slightly different in each ear, creating an illusion of absolute reality for the mind.
With high-quality microphones and an incredibly realistic speaker system, the VR headphones are guaranteed to give you the experience of a lifetime.
Controllers
The controllers in VR gaming gear are dependent on the kind of VR experience you are having. In this instance, we are going to talk about the free-roam VR experience.
Controllers in a free-roam VR experience are simply the weapons you use in the game. They are usually a custom-made, gun-like controller which you can use to shoot at your enemies and targets.
Moreover, when it comes to movements, the headset and your own body act as controllers and help you run, jump and walk around the virtual world of the gaming experience.
Backpacks
Finally, the backpacks. For a free-roam experience, you require a gaming computer and your controllers with you at all times.
The backpack helps you to carry around your gaming computer while you run, jump, shoot and hide in the warehouse-size gaming arena.
The computer powers the free-roam game and allows you to enjoy a truly seamless and untethered VR gaming experience.
Choose MeetspaceVR for the Most Advanced VR Gaming Experience
Experience unparalleled excitement, ruthless battles and incredible visuals with the most advanced VR gaming gear in London.
Join us for a free-roam VR experience with your best mates and make the memories of a lifetime.
With intense detail, power-packed action and unparalleled graphics, we invite you to the ultimate VR gaming arena, only at MeetspaceVR.
Be a part of our amazing VR escape rooms, Zero Latency games and VR arcades and feel the mind-blowing adventure of virtual reality.