"WE BLOW MINDS!"
Multiplayer, Social, Virtual Reality Experiences.
Are you on a quest for the best VR experiences in the UK? Do you want to share an incredible, larger-than-life VR experience with your best mates? Well, your quest ends here.
At MeetspaceVR, we bring you the best experiences with the most intense VR games, unrivalled warehouse-size spaces and exceptional equipment to give you an immersive, untethered VR experience.
With flabbergasting graphics, unimaginable VR arenas and the most adventure-filled games, we guarantee you and your mates an experience of a lifetime.
To find out more about our amazing experiences and why they are perfect for you and your gang, give us a call today!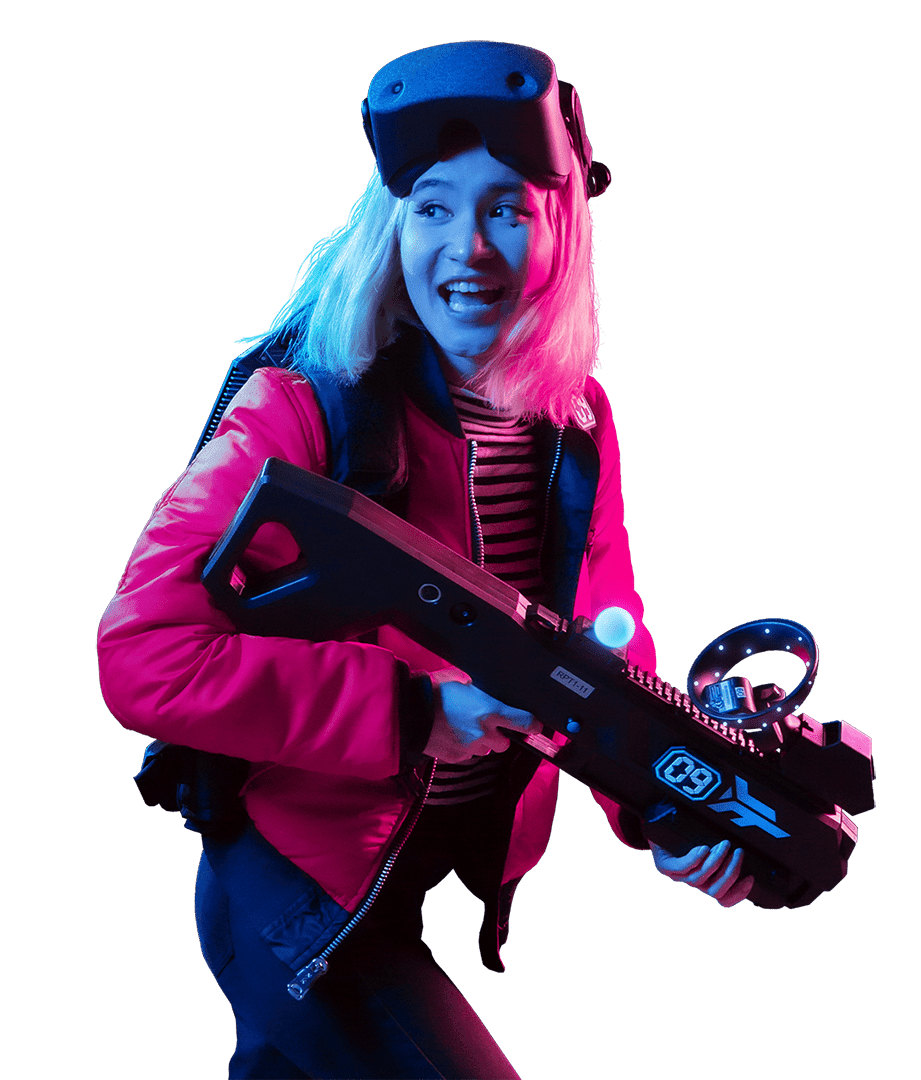 The 3 Best VR Experiences at MeetspaceVR
With our incredible VR options, we make the impossible seem easy - these virtual experiences are so real that your mind won't see the difference!
Here are our top 3 VR experiences close to your home.
Probably the best of our best VR experiences, Zero Latency is all about adrenaline-fuelled moments, exciting physical activity and one truly immersive, untethered VR experience.
In this experience, we accommodate up to 8 players in a single game. Our warehouse-size free-roam arena is safe for you to run, jump and fight in, and with our high-tech VR gaming gear, you are promised an unforgettable gaming experience.
Our VR Escape Rooms are all about mystery, adventure and teamwork. With some of the most intriguing puzzles, exciting storylines and unerringly real graphics, the VR escape room is simply one of our best experiences.
With intelligent, creepy, tactical and many more incredible genres, our VR escape room games are created by the finest developers in the world. Once you enter the arena with your best mates, this fantastic VR experience will never fail to surprise you with its difficulty levels and out of the world plotlines.
With a wide range of VR games available for you to try, our VR arcade offers some of the best VR experiences in the country. Whether you love shooting the brains out of creepy zombies or wish to run across a futuristic world filled with robots, we have everything you need.
Our VR arcade is specially created for you to have the best VR experiences for the least price. With you and your best mates raiding the VR arcade, you can host the ultimate VR showdown and find out who is the coolest gamer of the group once and for all.
Now that you know all about our best VR experiences, it's time you get in the gear and plan an amazing time with your friends.
To learn more about our facilities and experiences, book your slots now!
Find a location near you!
MeetspaceVR, Cairns Street,
Intu Victoria Centre, North Car Park,
Nottingham, NG1 3QN
MeetspaceVR, Box Park,
Olympic Way, Wembley Park,
Wembley, HA9 0JT
MeetspaceVR, Utilita Arena,
North Car Park, St Vincent Street,
Birmingham, B1 2AA
MeetspaceVR, Unit 2, Pipers Court,
Berkshire Dr, Thatcham,
Reading, RG19 4ER
MeetspaceVR, North3, 1st Floor,
6 Brightgate Way, Stretford,
Manchester, M32 0TB
MeetspaceVR, Unit 6, 
Riverside Business Centre,
Wallnut Tree Close,
Guildford, GU1 4UG
MeetspaceVR, Dixon Road Studio,
Unit 1&2 Bonville Business Estate,
Dixon Rd, Bristol BS4 5QQ